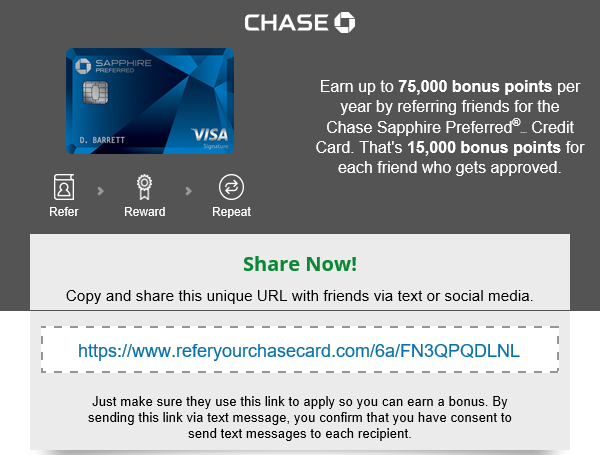 Here's How It Works
You can earn up to 75,000 bonus points
each calendar year. That's 15,000 bonus points when a friend gets approved, up to 5 times per year.*
Your friend will get 60,000 bonus points
after they spend $4,000 in the first three months their account is open.
To start referring, please click the Invite Friends Now links within this email, or copy and share this unique URL with friends via text or social media.

Este programma de Referir a un Amigo (Refer-A-Friend) y el proceso de referencia está disponible sólo en inglés. Si tiene alguna pregunta, por favor llame al número indicado en el reverso de su tarjeta.

TERMS AND CONDITIONS
* You can receive 15,000 bonus points for each friend you refer through this Refer-A-Friend offer (up to 5), who is approved for the card. Maximum bonus points accumulation for this offer is 75,000 bonus points. We may provide you with future opportunities to earn bonus points by referring your friends to Chase Sapphire Preferred. You may earn bonus points up to the stated maximum for each offer, however, please note that if you take advantage of multiple opportunities within one calendar year that the maximum number of bonus points that can be awarded from all referral offers is 75,000 per calendar year. In the event the bonus points you earn from all referral offers exceeds the 75,000 per calendar year, you may be awarded a partial amount to keep your total bonus at 75,000 bonus points. For example if you have already accumulated 65,000 bonus points from refer-a-friend offers that calendar year and the maximum is 75,000 bonus points per calendar year, then the next award will be 10,000 even if the offer states 15,000. Your participation in this program may result in miscellaneous income received from Chase and we may be required to send you, and file with the IRS, a Form 1099-MISC (Miscellaneous Income) or Form 1042-S (Foreign Person's U.S. Source Income Subject to Withholding) for the year in which you participate and are awarded the benefits of the program. You are responsible for any tax liability related to participating in the program. Please consult your tax advisor if you have any questions about your personal tax situation. This offer is subject to change and may be cancelled at any time without notice. To be eligible for this bonus offer, account must be open and not in default at the time of fulfillment. Please allow up to 8 weeks after each new cardmember's approval for bonus points to post to your account. Your bonus will appear on your statement as "Refer-A-Friend bonus."
Due to the confidential nature of the credit approval process, we cannot disclose information on who has applied, nor will you be notified whether we approve or decline any application(s) from the individual(s) you refer.
Chase employees are not eligible to refer friends for this promotional offer.
By sending this link via text message, you confirm that you have consent to send text messages to each recipient.
ABOUT THIS MESSAGE
This promotional email was sent to you to provide information about products, services, or special offers that may be of interest to you.
You can unsubscribe from future promotional emails from the JPMorgan Chase & Co. family of companies including "Points, Perks and Prizes" such as this or submit your request in writing to Chase Privacy Operations, P.O. Box 659752, San Antonio, TX 78265-9752. It takes up to 10 business days to process your request. You'll continue to receive Chase service emails.
This email was sent from an unmonitored mailbox. Go to chase.com/CustomerService for options on how to contact us.
Your privacy is important to us. See our online Security Center to learn how to protect your information.
© 2019 JPMorgan Chase & Co. EM10827